Photo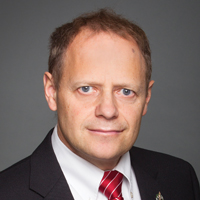 Assignment
Parliamentary Secretary to the Leader of the Government in the House of Commons
Winnipeg North
Kevin Lamoureux was first elected as the Member of Parliament for Winnipeg North in 2010.
Mr. Lamoureux previously served as Parliamentary Secretary to the President of the Queen's Privy Council for Canada and Minister of Intergovernmental Affairs and to the Leader of the Government in the House of Commons.
Mr. Lamoureux was born in Manitoba in 1962 and got his first job when he was 11 years old, pumping gas for his father for $1 per hour. He attended high school in Manitoba and Saskatchewan. Following graduation, he signed up for the Air Command of the Canadian Armed Forces, where he served for three years.
In 1988, he was elected to the Legislative Assembly of Manitoba, and served nearly two decades before being elected to the House of Commons.
Whether serving provincially or federally, Mr. Lamoureux's first commitment is to his community. Through his longstanding Saturday morning open house at McDonald's, he has spoken with thousands of community members about their concerns. He has championed important issues such as justice reform, immigration, labour, education, and housing.
Mr. Lamoureux and his wife, Cathy, got married in 1983, and they have two adult children.